Western Challenge Cup
---
---
What is the Western Challenge Cup?
The Western Challenge Cup is a competitive all-star tournament for elite players who are capable of playing in a challenging high tempo game against players from the Western Provinces.

Where is the tournament held?
In past years and currently, the tournament alternates every year between BC and Alberta.
For more info click on the WCC Logo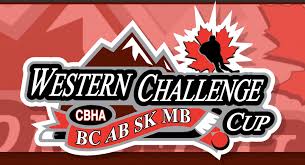 West Coat Minor Ball Hockey
SURREY, B.C. TO HOST 2020 WCC

When is the tournament?
The tournament will be held July 16th, 2020 through to the July 19th, 2020

What are the age groups?
They are as follows:
U11 Division (players born in 2009, 2010, 2011)
U13 Division (players born in 2007, 2008)
U15 Division (players born in 2005, 2006)
U17 Division (players born in 2003, 2004)
U19 Division (players born in 2001, 2002)


*Player eligibility is based on the player not being older than the division for that year of the tournament.
How are teams picked?
This year, tryouts will be held for divisions U-11 thru U-17 shortly after our season begins for GCBHL players currently registered and actively participating. There will be a committee of evaluators who rate the players based on ability, role and capability. Each player is evaluated over 2 sessions. After the 2 sessions, the committee, evaluators and the divisional coach discuss their ratings and decide on the team.

Do I have to pay anything extra on top of my fees?
Each Player trying out for the Western Challenge Cup will be required to pay $25 regardless if they make one or two sessions.

If my child makes a team, are there any expenses?
GCBHL has invested in jerseys for all 5 divisions which are the league's property. Players may be required to pay approximately $175 for WCC registration fees, team shorts, shirt, etc. There may be added expenses depending on if the team wants to rent floor time from the city, set up exhibition games then referees would have to be paid, had a team dinner, coaches gifts, etc.

What is my responsibility as a parent?
Parent participation is required for different duties to run the team. A team manager would have to be in place, jersey parent, exhibition games need clock and scorekeepers, etc. Overall, the team requires multiple tasks to be done by parent volunteers to make the team successful. As always, parents are expected to abide by GCBHL Parent Fair Play Code and represent our league in a positive manner.

What is the responsibility of the player?
Players are required to attend all practices and games. As always, players are expected to abide by GCBHL Player Fair Play Code. We are sending teams to this tournament and expect players to represent our association in a positive manner.